Detecto MB-130 Digital Pediatric Scale – 0-20 x 0.01 lb and 20-40 x 0.02 lb
$735.80
2 sold in last 21 hours
Features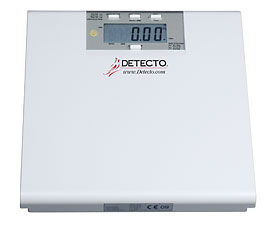 With dual graduation ranging from neonatal to pediatric care ( 5/10 gram .01/.02 lb ), Detectos MB130 features a removable baby tray that automatically converts the scale into a low-profile step-on toddler scale with a capacity of up to 20 kilograms / 40 pounds. The easy-to-read LCD features pounds and kilogram units. Power is provided by either a 9-volt battery (not included) or an AC adapter (included). The lightweight, comfortable design makes these scales ideal for visiting nurses and pediatric care professionals.
MB130 Features
Compact Design
Very Portable
Simple to Use
20 kg / 40 lb Capacity
Easy to Clean
Low Power Consumption
Removeable Tray for Standing Toddler Weighing
Limited quantities available
Detecto MB-130 Digital Pediatric Scale - 0-20 x 0.01 lb and 20-40 x 0.02 lb

Delivery & Return

Delivery

We ship to all address in Canada and all 50 states, Washington DC. All orders are shipped with a Canada Post tracking number. Always free shipping for orders over $500. During sale periods and promotions the delivery time may be longer than normal.

Items marked "On-Demand" "Special Order" "On Backorder" are not refundable or eligible for return as they are ordered on a case by case basis.

Return

Due to the nature of the products we sell, and for health safety concerns for our valuable customers, our products are non-returnable (sales are final). This policy will be strictly enforced.

Help

Give us a shout if you have any other questions and/or concerns. Email: 

sales@mecp.ca

Phone: +1 (437) 990-9174

Ask a Question

Detecto MB-130 Digital Pediatric Scale - 0-20 x 0.01 lb and 20-40 x 0.02 lb
... people are viewing this right now
---
| | |
| --- | --- |
| Weight | 4.082 kg |
| Dimensions | 24 × 14 × 8 cm |
Related Products
Detecto Portable Wheelchair Scale 6400 Seriers
From:

$

3,644.00
DETECTO's low-profile portable wheelchair scale line offers you four different models to choose from based on whether you need to weigh patients in regular size or bariatric wheelchairs and whether you need basic weighing functions or more complex patient measurement operations.
The platform is only 2.2 in / 5.6 cm high for easy patient accessibility and comfort while weighing either standing or in a wheelchair. With a high 1,000 lb / 450 kg capacity, the scales are capable of measuring patients of virtually any weight possible.
For single-pass weighing to save time, choose the models 6500 or BRW1000 which utilize the MedVue indicator. You can enjoy the time-saving benefits of these scales by using the convenient pushbutton or keypad tare which allows you to remove the wheelchair weight all in one pass.
Two-way ramps for accessibility from both sides
Flexible cable remote display extends up to 14 ft / 4.2 m from scale to indicator
Quick and easy mobility for transport or vertical storage
Optional Wi-Fi connectivity for EMR/EHR (models 6500 and BRW1000)
Battery power for easy mobility (or use with optional AC adapter)
Black rubber mat included on the scale platform and ramp for superior traction
FLEXIBLE WIRED WEIGHT DISPLAY
Since the display is connected to the scale by a long coiled cable that extends up to 14 ft / 4.2 m, it can be positioned where the healthcare professional can most easily read the results.
By using the versatile mounting bracket that comes with each scale, you may permanently mount the indicator on a wall for long-term static use or set it on a tabletop or desk for more mobile type weighing.
YOUR CHOICE OF DIGITAL KEYPAD WEIGHING FUNCTIONS
Models 6500/BRW1000 – The MedVue® multifunctional indicator with alphanumeric keypad and RS232 and USB ports (optional Wi-Fi and Welch Allyn connectivity) displays Height, Weight, and Body Mass Index onscreen simultaneously. Capable of 14-digital alphanumeric patient ID entries and 99 stored wheelchair tare weights. Displays in four languages (English, Spanish, French, and German).
Models 6400/6600 – Model 750 indicator with easy to-use, basic weighing functions. BMI calculation, RS232 serial port, and big bold LCD digits
INCLUDES VERSATILE INDICATOR MOUNTING BRACKETS
The MedVues® ballmount swivel bracket for the back of the indicator allows wall-mount or mobile tabletop weighing with adjustable viewing.
The 750 mounting bracket snaps onto the back of the indicator for wall-mount or mobile tabletop weighing.
Read more